SATURN ABRASION WEAR RESISTANCE ADVANTAGES
Over 45 year history of solving industry's most difficult wear problems
100% molten, flamed-sprayed ceramic resulting in higher particle-to-particle cohesive bonding
Most other coatings are powder based and are at best 80% molten at application
Unparalleled protection in abrasive, thermal and electrical applications
You can get the best without paying more. Our coatings are very competitively priced and provide an outstanding value over time.
Many companies specify Saturn Ceramic Company on their blueprints to ensure they use the best. There is no better testament to our high quality and superior performance.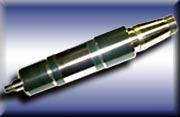 SPINDLE AND SHAFT WEAR
Spindle applications can include babbit bearing & filmatic bearing diameters and/or seal journals that are subject to rotational and reciprocating wear causing premature part failure.
Manufacturers and machine rebuilders use Saturn's rod-form ceramic coating on grinder spindles, shafts, wear sleeves, locknuts and many other wear items to significantly increase part life.
Saturn has enabled many manufacturers to reduce associated maintenance and repair expenses by as much as 50% largely due to the effectiveness of our coating.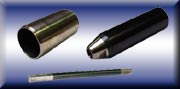 PUMPS/PUMP ASSEMBLIES/ VALVES
Pump shafts, cylinders, sleeves, valves and impellers can wear out prematurely in many pumping applications especially with abrasive and caustic materials.
Previously manufacturers have had to routinely inspect and replace these parts requiring unnecessary maintenance costs and downtime.
Manufactures confidently eliminate many maintenance inspections and improve productivity.
Extensive experience manufacturing to print and coating parts in paint, petro-chemical, automotive,
and industrial applications.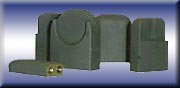 PRODUCTION BUFFING
In production buffing operations many items such as those used to hold parts in place, mask off non-buffing areas, or guides for belts, pads & parts are subject to severe abrasive wear.
Manufacturers have tried various methods to address these wear issues including hardened steel fixtures, various powder ceramic & carbide coatings, and solid carbides or ceramics.
Saturn has a proven cost effective solution that substantially outlasts other coatings & hardened
tooling and costs less and is more machineable than solid carbide or ceramics.
Fixtures with our coatings can also be recoated instead of scraped saving time and money.
FORGING SKID RAILS AND ROLLERS
Skid rails and rollers used in induction heating forging operations are subject to extreme heat and
severe abrasion conditions guiding billets through the heating coils.
Forging Supervisors routinely inspect the rails for wear & cooling leaks. When the rails wear out,
they are typically replaced with new ones to maintain heating efficiency and avoid leaks.
Our coating can make these parts and countless other wear items last much longer. And, instead of
scraping the parts after one use, our coating can be reapplied to save even more money.